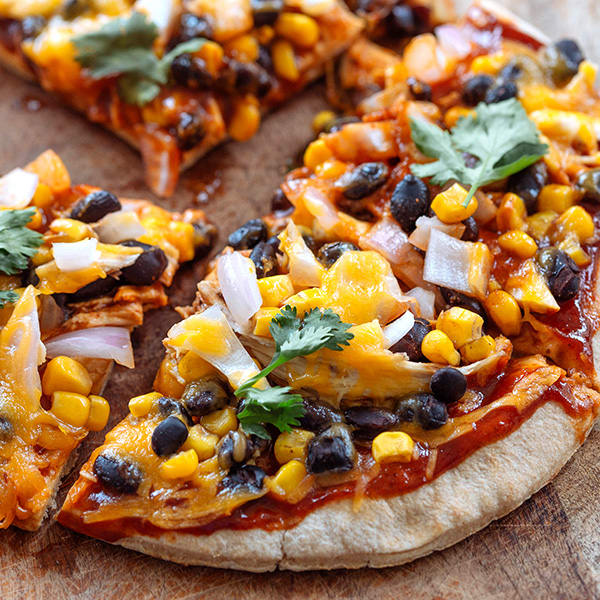 Psst…if you're gluten free – use this cauliflower crust!

BBQ Chicken Flatbread Pizza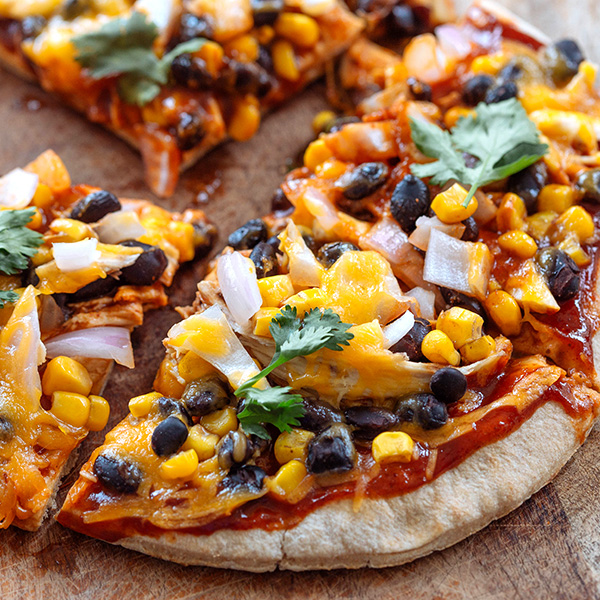 Prep time
15 mins
Cook time
8 mins
Total time
23 mins
Serves: 4 servings, ½ flatbread each

Ingredients:
2 whole wheat flatbreads (or 6½-inch whole wheat pitas)
½ cup barbecue sauce, reduced-sugar
1½ cups shredded cooked chicken breast
½ cup canned black beans, drained, rinsed
½ cup corn kernels
½ medium red onion, chopped
½ cup shredded cheddar cheese
¼ cup finely chopped fresh cilantro
1 Tbsp. fresh lime juice

Instructions:
Preheat oven to 350º F.

Place flatbreads on a large baking sheet.

Spread barbecue sauce evenly on flatbreads.

Top flatbreads evenly with chicken, black beans, corn, onion, and cheese.

Bake for 5 to 8 minutes, or until cheese is melted.

Top evenly with cilantro and drizzle with lime juice. Serve immediately.
Container Equivalents: 2 Yellow, 1 Red, 1/2 Blue

Recipe tip:

Look for barbecue sauce that has an ingredient list that does not contain artificial sweeteners, additives, or preservatives. There are many brands on the market that are sweetened with small amounts of honey, maple syrup, or molasses.

Or, use this yummy, healthy smoky barbecue sauce!