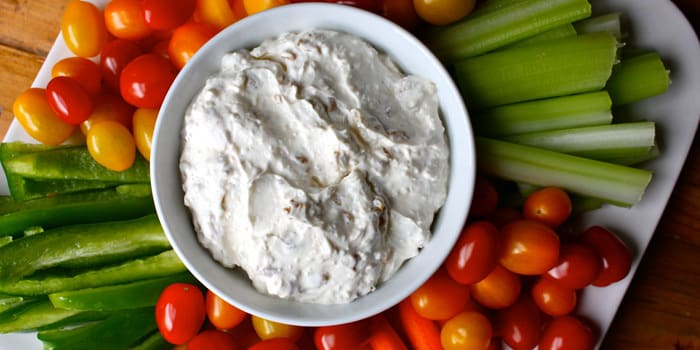 We created a healthier version of the favorite party dip. Usually made from a powder of artificial flavors, our French onion dip is made from scratch with savory caramelized onions.

Total Time: 3 hrs. 35 min.
Prep Time: 10 min.
Cooking Time: 25 min.
Yield: 7 servings, about 3 Tbsp. each

Ingredients:
1 Tbsp. olive oil
2 medium onions, chopped
¼ cup low-sodium organic beef broth
1 Tbsp. Worcestershire sauce
¼ tsp. garlic powder
Sea salt and ground black pepper (to taste; optional)
1 cup nonfat plain Greek yogurt

Preparation:
1. Heat oil in medium saucepan over very low heat.
2. Add onions; cook, stirring frequently, for about 20 minutes, or until onions are soft and golden brown.
3. Add broth, Worcestershire sauce, and garlic powder. Season with salt and pepper if desired; cook, over medium heat, stirring frequently, for about 5 minutes, or until broth has evaporated. Remove from heat. Let onion mixture cool completely.
4. Combine onion mixture and yogurt in a medium bowl; mix well.
5. Chill, covered, for 1 hour (or overnight).
6. Serve with raw vegetables for dipping.