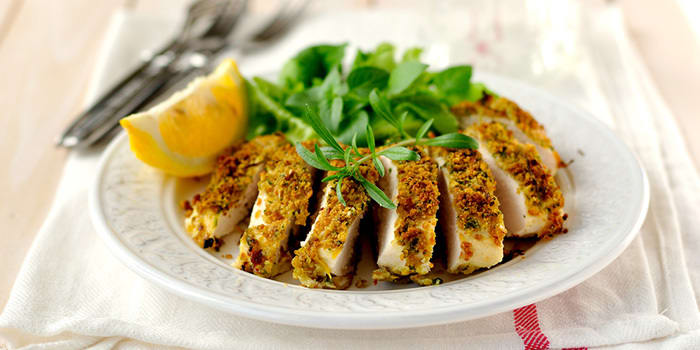 Forget greasy fried chicken! This oven-baked chicken recipe has all of the juiciness and crunch you'd expect from fried chicken, without the added fat and calories. Tip: Mix chopped fresh herbs, paprika, or other spices into the bread crumb mixture for extra flavor.

Total Time: 1 hr. 2 min.
Prep Time: 10 min.
Cooking Time: 22 min.
Yield: 8 servings

Ingredients:
3 Tbsp. hot pepper sauce (like Tabasco)
1 Tbsp. Worcestershire sauce
2 large eggs
8 (5-oz.) raw chicken breasts, boneless, skinless
Nonstick cooking spray
2 cups whole-wheat Panko bread crumbs (Japanese-style bread crumbs)
½ tsp. ground black pepper

Preparation:
1. Combine hot sauce, Worcestershire sauce, and eggs in a shallow dish; mix well.
2. Add chicken; soak, turning once, for 30 minutes.
3. Preheat oven to 425° F.
4. Line baking sheet with foil; lightly coat with spray.
5. Combine bread crumbs and pepper in a large resealable plastic bag; shake to combine. Set aside.
6. Working with one piece at a time, lift chicken from egg mixture, letting excess drip back into bowl, and drop into bag containing bread crumb mixture. Seal bag and shake to coat; repeat with remaining chicken.
7. Place chicken on prepared baking sheet. Bake for 18 to 22 minutes, turning after 10 minutes; or until no longer pink in the middle and golden brown.
Container Equivalents: 1 Red, 1 Yellow