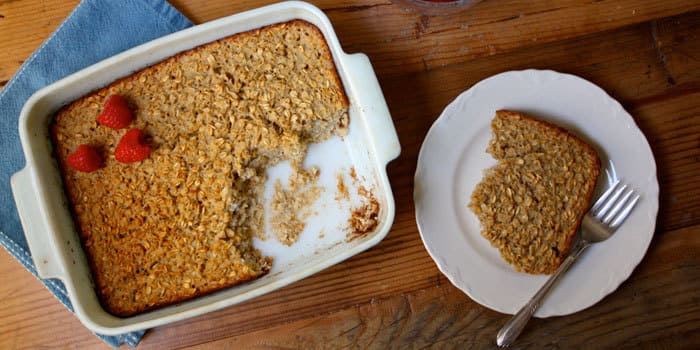 Mix a few ingredients in seconds then put them in the oven. When you're ready for work, your breakfast is ready to eat. And it's delicious. Add a chopped apple for even more flavor, and delicious bites of fruit (this will change the nutritional profile).
Total Time: 50 min.
Prep Time: 10 min.
Cooking Time: 40 min.
Yield: Makes 8 servings, about ⅔ cup each
Ingredients:
Nonstick cooking spray
3 cups old-fashioned rolled oats
1½ tsp. baking powder
1 tsp. ground nutmeg
¼ tsp. sea salt (or Himalayan salt)
3 cups unsweetened almond milk
1 tsp. vanilla extract
2 large eggs
¼ cup unsweetened applesauce
2 Tbsp. raw honey
Preparation:
1. Preheat oven to 400° F.
2. Lightly coat a 2-quart baking dish with spray.
3. Combine oats, baking powder, nutmeg, and salt in a medium bowl; mix well. Set aside.
4. Combine almond milk, extract, eggs, applesauce, and honey in a large bowl; whisk to blend.
5. Add oat mixture to milk mixture; mix well.
6. Pour mixture into prepared baking dish.
7. Bake for 35 to 40 minutes, or until top has browned.
By: Beachbody
Container Equivalents = 1 Serving is 2/3 cup = 2 Yellow