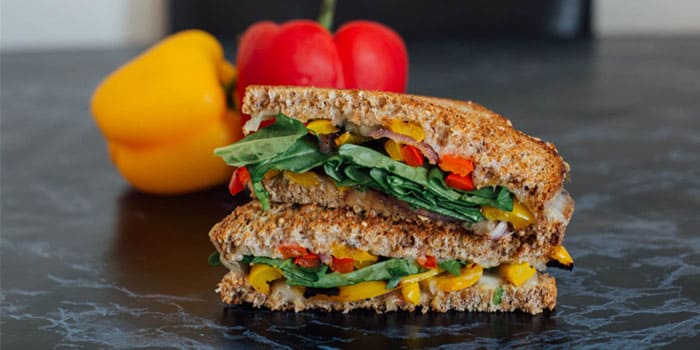 Grilled cheese? Yes, please! Enjoy the melted cheese you love while sticking to your healthy nutrition goals. This crunchy sandwich is packed with colorful sautéed veggies and provolone cheese. A touch of Dijon mustard is the special ingredient that really pumps up the flavor.

Total Time: 22 min.
Prep Time: 10 min.
Cooking Time: 12 min.
Yield: 1 serving

Ingredients:
½ tsp. olive oil
¼ medium yellow bell pepper, thinly sliced
¼ medium red bell pepper, thinly sliced
¼ medium red onion, thinly sliced
2 slices low-sodium sprouted whole grain bread
1 tsp. Dijon mustard
¼ cup raw spinach
1 slice provolone cheese (1 oz.)

Preparation:
1. Heat oil in medium nonstick skillet over medium high heat.
2. Add bell peppers and onion; cook, stirring frequently, for 4 to 5 minutes, or until onion is translucent. Remove from pan. Set aside.
3. Spread mustard on one slice of bread.
4. Top with bell pepper mixture, spinach, cheese, and second slice of bread. Set aside.
5. Heat skillet over medium high heat.
6. Add sandwich; cook for 2 to 3 minutes, or until golden brown. Flip, cook for 3 to 4 more minutes or until cheese has melted.

Tip: Sandwich can also be grilled in a countertop two-sided grill or Panini maker.
By: Beachbody
Container Equivalents: 1 Green, 2 Yellow, 1 Blue, 1/2 tsp.