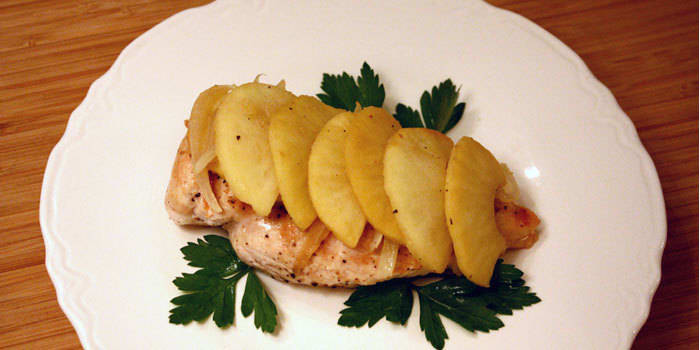 This grilled chicken dish topped with honey and sautéed apples is great no matter what you are celebrating or just looking for a healthy sweet-and-savory chicken recipe.

Total Time: 35 min.
Prep Time: 15 min.
Cooking Time: 20 min.
Yield: 4 servings

Ingredients:
¼ cup low-sodium chicken broth
1 Tbsp. Dijon mustard
2 tsp. raw honey
1 dash sea salt
4 tsp. olive oil, divided use
4 (4-oz.) raw chicken breasts, boneless, skinless
4 medium Granny Smith apples, peeled, cored, thinly sliced
½ medium onion, thinly sliced

Preparation:
1. Preheat grill or broiler.
2. Combine chicken broth, mustard, honey, and salt in a small bowl; whisk to blend. Set aside.
3. Brush chicken breasts evenly with 1 tsp. olive oil.
4. Grill or broil chicken for 5 minutes on each side or until chicken is no longer pink in the middle and juices run clear. Set aside.
5. While chicken is cooking, heat remaining 3 tsp. oil in medium nonstick skillet over medium heat.
6. Add apples, onion, and chicken broth mixture; cook, stirring frequently, for 8 to 10 minutes, or until apples are tender and liquid thickens slightly to sauce consistency.
7. Serve apples over chicken.
By: Beachbody
Container Equivalents: 1 Red, 1 Purple, 1/2 Yellow, 1 tsp.