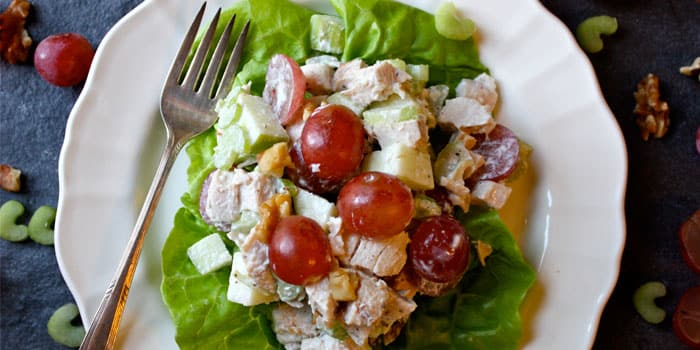 The Waldorf salad has been a favorite American dish since the turn of the 20th Century, but the original mayonnaise-smothered recipe was in need of a makeover to fit into a healthier modern diet. We created this refreshingly lean version made with crunchy apples, celery, walnuts, sweet grapes, and turkey breast. Ours is lightened by blending yogurt with a touch of mayonnaise to make a creamy sauce that stays true to the flavor of the original. The result is a salad you'll want to eat again and again.

This is a perfect way to use leftover turkey or chicken. Serve on lettuce, or use the whole lettuce leaves to make lettuce cups.

Turkey Waldorf Salad

Total Time: 20 min.
Prep Time: 20 min.
Cooking Time: None
Yield: 4 servings, about 1¼ cups each

Ingredients:
½ cup low-fat (1%) plain yogurt
4 tsp. olive oil mayonnaise
1 Tbsp. fresh lemon juice
1 tsp. raw honey
½ tsp. sea salt (or Himalayan salt)
½ tsp. ground black pepper
2½ cups shredded roasted turkey breast (approximately 12 oz.)
2 medium celery stalks, sliced
1 medium Granny Smith apple, chopped
¼ cup chopped raw walnuts
1 cup halved red grapes
8 Boston (or Bibb) lettuce leaves

Preparation:
1. Combine yogurt, mayonnaise, lemon juice, honey, salt, and pepper in a medium bowl; mix well. Set aside.
2. Combine turkey, celery, apple, walnuts, and grapes in a medium serving bowl; mix well.
3. Add yogurt mixture; toss gently to blend.
4. Serve on top of lettuce.
By: Beachbody
Container Equivalents: 1/2 Green, 1 Red, 1/2 Purple, 1/2 Blue, 1/2 tsp.