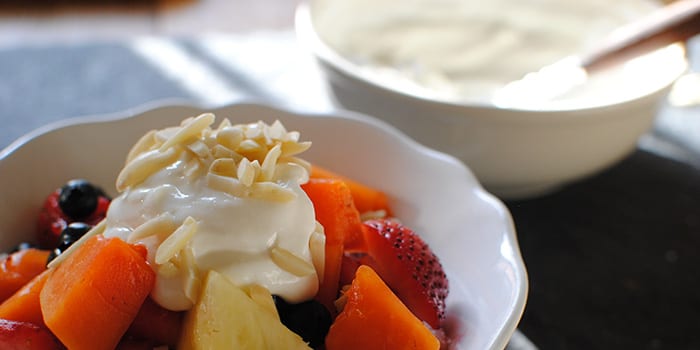 This tropical fruit salad topped with vanilla yogurt sauce and crunchy almonds is great for a colorful breakfast or snack. Or, consider bringing to your next barbecue so you'll know there is something healthy and delicious to put on your plate!

Total Time: 15 min.
Prep Time: 15 min.
Cooking Time: None
Yield: 14 servings (½ cup fruit salad, and about 2 Tbsp. yogurt sauce)

Ingredients:
2 cups nonfat plain yogurt
1 Tbsp. raw honey
½ tsp. pure vanilla extract
1 medium pineapple
1 medium papaya, peeled, cut into 1-inch cubes
1 cup fresh blueberries
1 cup quartered strawberries
¼ cup slivered raw almonds (1 oz.)

Preparation:
1. Combine yogurt, honey, and extract in a medium bowl; mix well. Refrigerate, covered, until time to serve.
2. Stand pineapple upright; vertically cut about a third from one side, leaving the leaves attached. Remove fruit from large half, leaving a ½-inch thick shell. Discard outer peel from the smaller section. Cut fruit into ½–inch cubes.
3. Combine pineapple, papaya, blueberries, and strawberries in a medium bowl; toss gently to blend.
4. Serve fruit salad evenly topped with yogurt sauce and almonds.
By: Beachbody
Container Equivalents: 1 Purple