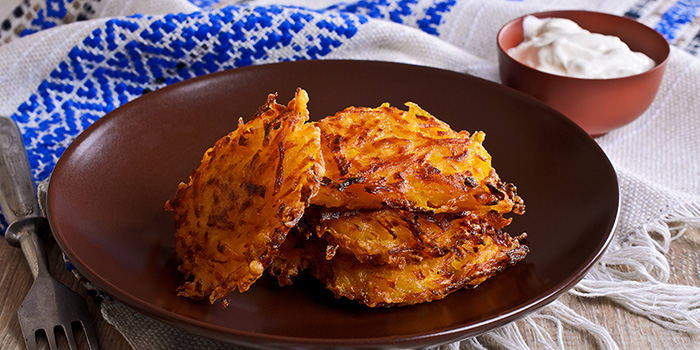 Latkes are delicious. But most recipes call for white potatoes, lots of oil, and sour cream. We used sweet potatoes to create a healthier version of a traditional favorite that your family will love.

Total Time: 50 min.
Prep Time: 20 min.
Cooking Time: 30 min.
Yield: Makes 6 servings, 1 latke each

Ingredients:
1 lb. sweet potatoes, peeled, grated
¾ medium onion, grated, squeezing out as much liquid as possible
1 large egg, beaten
1 Tbsp. whole wheat flour
2 Tbsp. whole grain Japanese-style bread crumbs (like Panko)
1 clove garlic, finely chopped
½ tsp. sea salt (or Himalayan salt)
1 tsp. olive oil
6 tsp. reduced fat (2%) plain yogurt

Preparation:
1. Preheat oven to 350° F.
2. Line large baking sheet with parchment paper. Set aside.
3. Combine sweet potatoes, onion, egg, flour, bread crumbs, garlic, and salt in a medium bowl; mix well.
4. Using ¼-cup measuring cup, scoop mixture into rounds and form into patties. Place on prepared baking sheet.
5. Brush the tops evenly with oil; bake for 15 minutes. Flip latkes and bake an additional 10 to 15 minutes, or until crisp.
6. Serve latkes topped evenly with yogurt.

Tip: Latkes can be made one day ahead. Follow steps 1 to 4. Cover baking sheet and store in the refrigerator for one day. Bake them right before serving.
By: Beachbody
Container Equivalent: 1 Latke = 1 Yellow