How to Bake Moist Chicken Breasts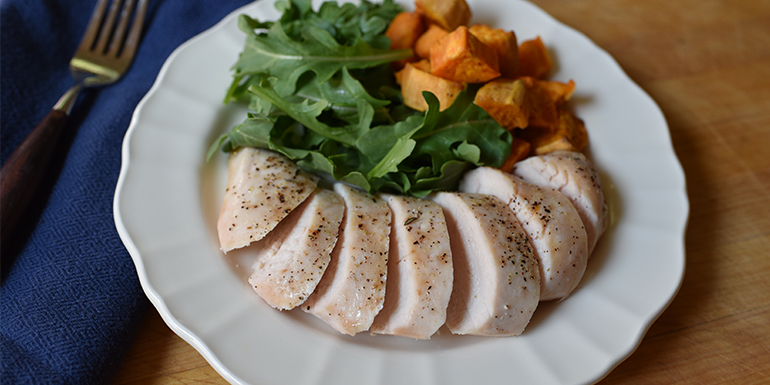 Simply baking chicken breasts was my culinary Achilles heel for years. I could truss and roast a whole chicken with my eyes closed, and it would always come out perfect, but when it came to something as basic as baking succulent chicken breasts, I was at a loss.
The truth is, I didn't used to like chicken breast meat. I avoided it like some people avoid cricket protein powder. I found it dry, stringy, and bland. So I opted for higher-fat thigh meat instead.
Even if you're a total beginner in the kitchen, you can master baking moist, delicious chicken breasts. And, after you do, you'll be able to make hundreds of healthy meals, from salads to soups to sandwiches to dinner any night of the week in less than a half hour. There are lots of ways to cook chicken breasts, but this simple, no-fuss method is a great place to start.
How to Bake Chicken Breasts...
1. Purchase small, evenly-sized chicken breasts.
Sometimes chicken from the butcher's counter may still have the tenders attached (that's the thin strip of meat that runs along the underside of the breast, making one side much thicker than the other). Remove these with a knife and save them for another meal.
2. Preheat your oven to 375° F and pat dry each chicken breast with a paper towel.
Despite what you may have learned as a child, don't wash chicken in the sink, it can spread germs.
3. Place the chicken breast in an oven-proof baking dish.
Drizzle with about a teaspoon of olive oil per breast. You can also squeeze a lemon or lime over the meat to give the meat a little extra moisture as it cooks.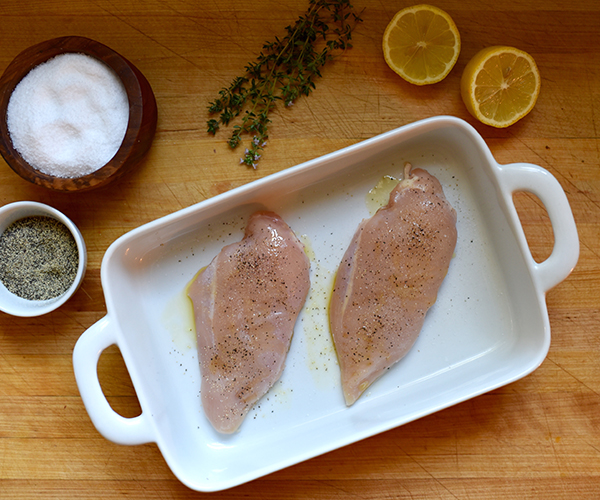 4. Season with salt and pepper, and any herbs and spices.
Chicken breast meat has a reputation for being flavorless, but it tastes wonderful when properly seasoned. Try a pinch of dried rosemary or thyme, paprika, or a spice rub like this one.
5. Put the baking dish in the oven and cook for 15-20 minutes.
Thicker pieces of chicken will require more cooking time. Check the meat after 15 minutes. Pierce the meat with a toothpick or the tip of a knife. If the juices that run out of it are clear, it is done. If they are pinkish or red, return the chicken to the oven for a few more minutes. Remove from oven.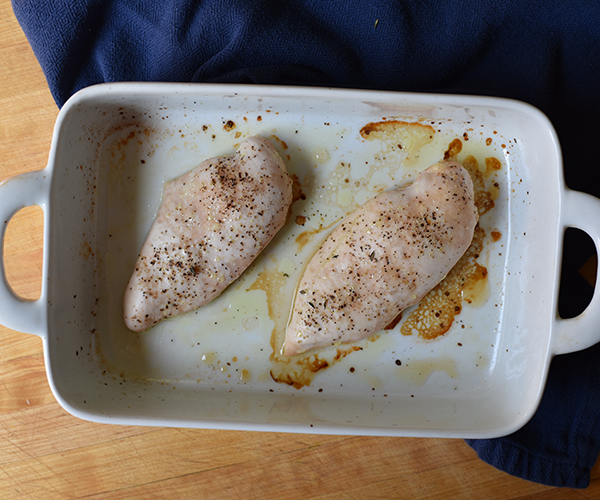 6. Remove the chicken from the baking dish and let it rest on a cutting board.
By doing this for a few minutes before you serve, it allows the juices to settle back into the meat. During this time, press your finger into the meat and test its firmness. Remember this degree of firmness so the next time you cook chicken, you can use this as an additional method to test doneness.
If you plan to cook more than two chicken breasts, just use a larger baking dish, and leave plenty of space around each piece of meat. You do not need to increase the cooking time.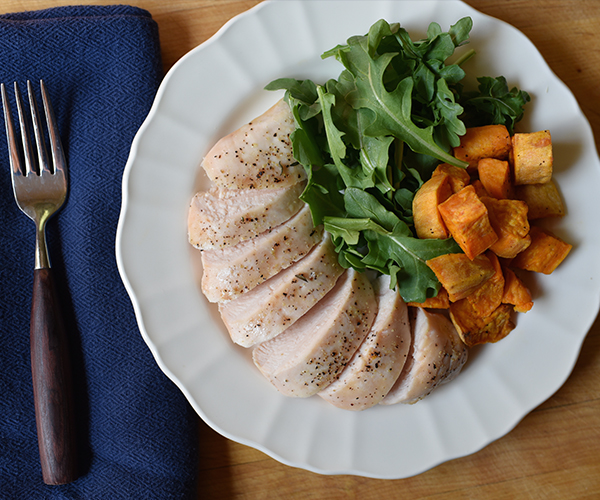 How to Bake Chicken Breasts
Total Time: 25 min.
Prep Time: 5 min.
Cooking Time: 20 min.
Yield: 1 serving
Ingredients:
4 oz. raw chicken breast, boneless, skinless
1 tsp. olive oil
Sea salt (or Himalayan salt) and ground black pepper (to taste; optional)
Preparation:
1. Preheat oven to 375° F.
2. Place chicken in ovenproof dish.
3. Drizzle with oil. Season with salt and pepper if desired.
4. Bake for 15 to 20 minutes or until chicken is no longer pink in the middle and juices run clear.
Cooking Tips:
• Cooking times may vary depending on the thickness of the chicken breast.
• You can also season chicken with lemon or lime juice and dry herbs like rosemary and thyme.