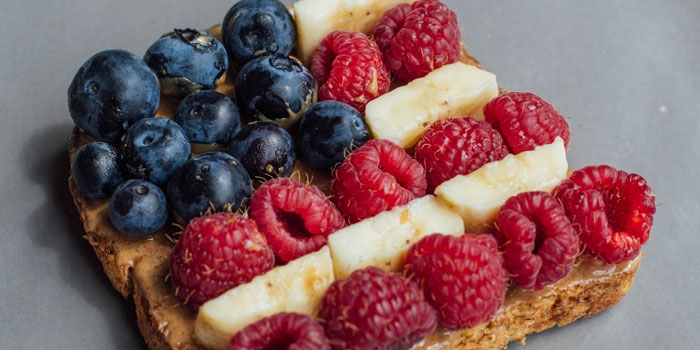 This delicious peanut butter, banana, and berry toast can be customized with your favorite berries (we used raspberries for the red stripes, but strawberries, red grapes, or plums would work too). Enjoy it for Memorial Day, Labor Day, or Fourth of July.


Total Time: 15 min.
Prep Time: 15 min.
Cooking Time: None
Yield: 1 slice

Ingredients:

2 tsp. all-natural almond butter
1 slice whole grain bread, toasted
11 fresh blueberries
12 fresh raspberries
¼ medium banana, cut in half lengthwise, cut into ½-inch slices

Preparation:

1. Spread almond butter evenly on toast.
2. To create a fruit flag, place five raspberries in a line parallel to the bottom of bread.
3. Place banana slices above raspberries.
4. Repeat with raspberries.
5. Place one banana slice on right side above raspberries.
6. Place two raspberries above banana slice.
7. Place one banana slice above raspberries.
8. Create a square of blueberries on the upper left corner. Serve.